Kitchen Ceili: Traditional Music from Ireland, Scotland and New England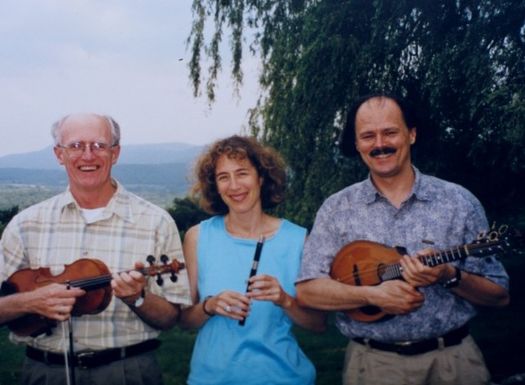 Kitchen Céilí
Traditional Music of Ireland and New England
(Listen to Kitchen Céilí's performance of "Little Beggerman/Harvest Home" at our Audio page)
Kitchen (kich-en) n:  a room for the preparation of food
Céilí (kay-lee) n:  an informal gathering for music, dance, stories, and song
"Kitchen Céilí's performance...was one of the highlights of the Summer Series.  Not only are they excellent musicians, who chose a wide range of music and performed it well, but they also provided an enjoyable educational experience for all in attendance... Of course, the audience didn't realize how much they were learning; they were too busy tapping their toes to the lively dance tunes and hanging on to every word of the humorous and melancholy ballads." 
-B. Joan Hickey, Director, Center for Creative Youth, Wesleyan University
As their name implies, the Irish/New England band Kitchen Céilí aims to serve up healthy portions of spirited tunes and songs in an atmosphere of unpretentious good humor. Their repertoire includes the driving reels and lilting jigs and hornpipes one would find in an Irish pub session, as well as stately waltzes, slow airs, and old and new songs of emigrants, soldiers, lovers, lawyers and computer programmers from both sides of the Atlantic. The band features George Wilson on fiddle, banjo and vocals, Dora Hast on tin whistle and recorders, and Stan Scott on guitar, mandolin, banjo, and vocals. 
The musicians bring a wide range of experience to their concerts, school programs, and dances.  A native of Hudson Falls, New York, George Wilson is a talented multli-instrumentalist whose repertoire is drawn from a wide variety of traditional and folk styles from New England, the Adirondacks, Quebec, Cape Breton, Ireland, Scotland, and Shetland. Dora Hast has collected a unique repertoire of traditional tin whistle tunes through several trips to Ireland. Her book Music in Ireland (Oxford University Press), co-authored with her band-mate and husband Stan Scott, is a standard resource in Irish music studies.  She has an M.M. in Music Education from the New England Conservatory of Music, and wrote her doctoral dissertation on New England contra dance music. Stan Scott is a composer, singer, guitarist, and mandolinist, whose eclectic musical interests have led him many times to India as well as Ireland, where he has lectured and performed at the Willie Clancy Summer School and the Clare Festival of Traditional Singing.
 School Programs:  Concerts, Assemblies, and Workshops
Irish Traditional Music:  These programs explore the rich world of traditional Irish songs, dance, and dance music in both historical and contemporary contexts.  The group often performs with an Irish step dancer.  Students participate by singing, learning rhythms, and in many cases, getting up to try a few dance steps!  Grades K-12.
Crossing Borders:  Multicultural Roots of New England Traditional Music and Dance: These programs include traditional and contemporary songs, tunes and dances from Ireland, Scotland, England, Shetland, Canada, and the United States.  The performers give historical background as they explore how ballads, humorous songs, and dance tunes traveled from Ireland and the British Isles to America.  Grades K-12.
Bookings:  contact Dora Hast at dorahast@gmail.com